Food Metal Detector
Model#MS-809
*Introduction:

Based on the development and production of metal detector for many years, we have introduced a new generation of micro computer intelligent with high sensitivity and high reliability touch screen metal detector. metal detector food safety meat metal detector, metal detection test pieces food industry,

The product adopts dual-circuit design. This is a whole metal detecting instrument, which can detect iron and non iron, and the sensitivity can be adjusted separately.

The memory function can presuppose 6 kinds of detection substances, which have good exclusiveness to the products with water and frozen products.

It breaks through the technical bottleneck which most of the equipment is only sensitive to magnetic material. metal detector ferrous and nonferrous

The detector uses sound and light alarm, and it has function to exclude, stop, reverse automatically, the humanized menu, the touch screen operation is convenient.

Stainless steel material is used for entire machine to prevent corrosion, rust free and easy to clean. metal detection limits in food,

Therefore, it is widely used in the detection of metals in foods, drugs, toys and other demanding objects. non ferrous detector,


*Features:

1. The combination of brand-new analog circuits and digital circuits greatly improves the reliability and intelligentization of products. metal detector for seafood industry

2. A new type of touch screen input and large scale integrated circuit is used. The analog signal is collected and converted into digital processing and output by CPU, and the best point of metal content of the detected object is automatically collected, which greatly improves the sensitivity and reliability of the detection.

3. Using the humanized interface design, the whole operation process is simple and direct, the human-computer interface is clear and clear. All the functions can be performed directly on the screen.

4. You can set up various functions and modes, and set up self checking function. conveyor metal detector equipment

5, sensitivity: sub position, adjustable increase and decrease (1-9 adjustable). metal detector in food processing industries

6. When the trace metals are detected, the sound, light and instruments will be alarms at the same time, and the unqualified products will automatically return to the stop state.
7, This product uses the computer to make up the control system. According to the special requirements of the user, it can complete the quantity statistics of the detection objects, the classification statistics of the qualified products & the unqualified products, the identification of the dry and wet concentration products, and the separation of the interference of the multiple equipment at the same time. metal detector for spices industry, safeline metal detector problems, Conveyor Food Metal Detector

8. Additional infrared and automatic elimination devices can be installed. metal detector sensitivity food industry, garment metal detector, metal detector food processing


*Technical parameters of product:

1. Detection methods: electromagnetic wave detection

2, digital circuit 5 inch touch blue screen LCD display

3. Detection width: 40-120CM belt conveyor metal detectors

4. Test height: 10-50CM metal detectors for food industry

5, sensitivity adjustment: 1-9 level roller conveyor

6, detection sensitivity: 0.6mm-3.0mm iron ball, 1.5-5.0mm stainless steel

7. Alarm mode: buzzer alarm, motor automatic stop and rewind.

8. The speed of the transmission band: 25 meters per minute

9. Power supply: 100-265VAC, 50-60Hz, Conveyor Food Metal Detector: Conveyor Food Metal Detector, Conveyor Belt Food Metal Detector.

10, appearance size: 1550*800*900MM (can be customized according to requirements), Medicine And Food Metal Detector, Auto Conveying Food Metal Detector.

11. The technical indicators are detailed in the following table:



Model

MS-809

Detection height for channel / unit (mm)

100

120

150

200

250

300

Effective detection width / unit (mm)

400-450

400-450

400-450

400-450

400-450

400-450

Test standard

FeΦmm≥Iron

0.8

1.0

1.2

1.5

2.0

2.5

SUSΦmm≥304

2.0

2.0

2.5

3.0

3.5

4.0

Transmission speed(m/min)

25

25

25

25

25

25

Applied voltage

AC110V-AC220V

AC110V-AC220V

AC110V-AC220V

AC110V-AC220V

AC110V-AC220V

AC110V-AC220V

Rated power

90W-120W

90W-120W

90W-120W

90W-120W

90W-120W

90W-120W
*Application place
It can be used for products detection in blister, dry goods, textiles, toys, clothing, shoes and caps. conveyor metal detector equipment
metal detector for biscuit industry, metal detector for bakery industry.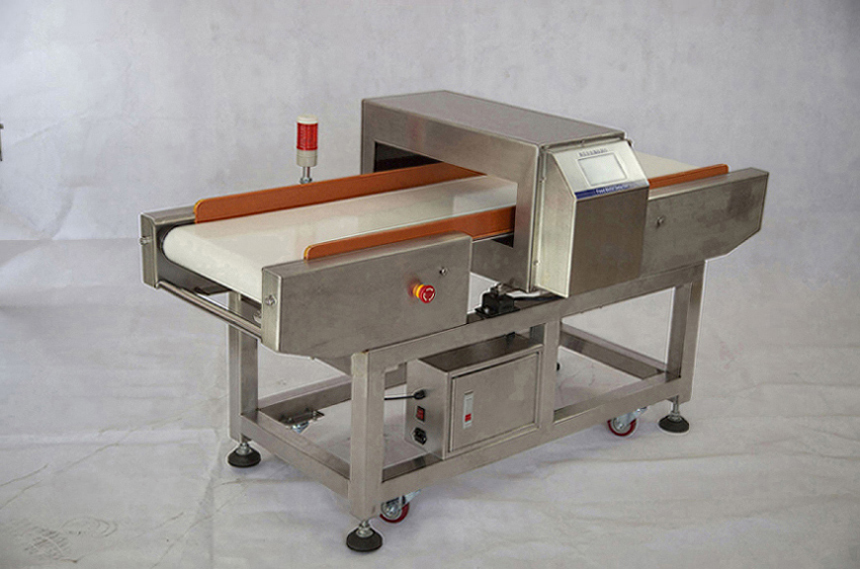 Looking for ideal Roller Conveyor for Food Manufacturer & supplier ? We have a wide selection at great prices to help you get creative. All the Belt Conveyor Metal Detectors are quality guaranteed. We are China Origin Factory of Metal Detectors for Food Industry. If you have any question, please feel free to contact us.
Product Categories : Conveyor Food Metal Detector